Chocolate Hole, St. John Real Estate & Homes
Chocolate Hole St. John Real Estate offers the conveniences of Cruz Bay Town with the luxurious lifestyle of Chocolate Hole. View real estate, land & homes for sale in Chocolate Hole in St. John below.
Listing Saved!
Get alerts on new listings and listing updates that match below search criteria
Add to Collection
Organize and manage your saved listings by addint it to a collection
About Chocolate Hole Real Estate
Chocolate Hole offers the perfect spot for a relaxing vacation escape or a magical place to call home in the Islands. Chocolate Hole St. John homes have the amazing views and peaceful paradise living you are dreaming of. The area also offers a perfect location for homeowners seeking delicious restaurants, exciting Island beach bars, and easy ferry access to the British Virgin Islands or St. Thomas. Discover Chocolate Hole today.
Popular Areas Near Chocolate Hole, St. John
St. John is comprised of five residential quarters for new homeowners to choose from: Cruz Bay Quarter, Coral Bay Quarter, Maho Bay Quarter, Reef Bay Quarter, and East End Quarter. As the island's main port, Cruz Bay may be considered the heart of this little island, but those seeking the utmost luxury, privacy, or waterfront access in their next home should expand their real estate search to any of these five quarters. Learn more about living on St John, USVI.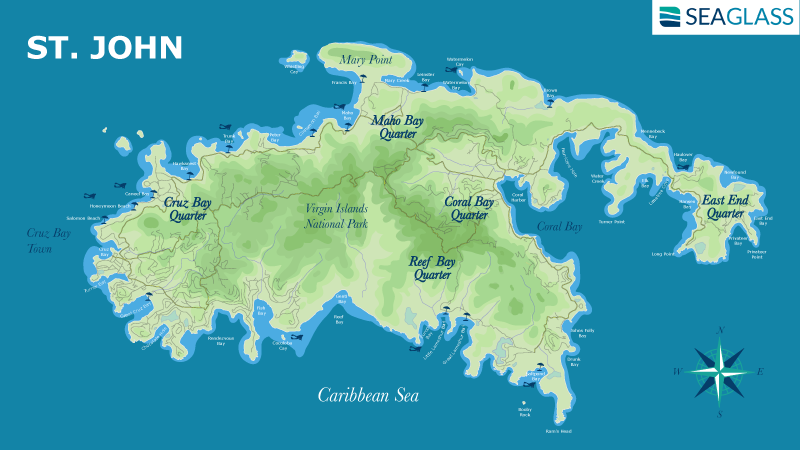 Don't wait – connect with our award-winning real estate agents to find the perfect St. John condos for sale or USVI home today!