St. John Map
If you were to look at a map of Saint John (USVI), you might think this small island has little to offer. Well, it doesn't take a cartographer to know that Saint John has many things that attract tourists and property buyers alike from all over the world. From excellent weather (the temperature ranges from 77 to 90 degrees), a friendly local population of 4,170, and plenty of restaurants, shops, and excursions, Saint John is an idyllic location for your next vacation or home. The most obvious feature of the St. John map is the large national park, which makes up 2/3 of island, offering breathtaking hikes and views across the island. To get a better sense of the island's major areas, beaches, and coves, check out our St. John (USVI) map below.
Map of St. John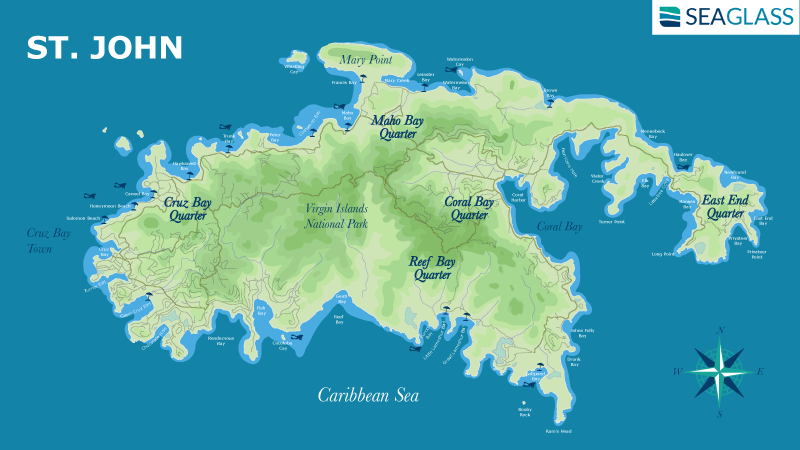 How Big Is St. John?
The total area of St. John spans almost 20 square miles of lush forest, beautiful volcanic rock, and luxury development. At it's widest points, the island of St. John is approximately 6 miles wide and 13 and a half miles long. The island houses approximately 4,170 people according to the 2020 census.
Areas Within St. John
In addition to the expansive Virgin Islands National Park, take notice of the five primary residential areas within the St. John Map. While all of these areas share in the tranquil beauty of the island, each has a unique personality. Learn more about the real estate market and culture of each area below.
Cruz Bay Quarter
Cruz Bay is the heart of St. John, with hourly ferries running to and from St. Thomas from the island's main port. St john is considered the "artsy" island, and Cruz Bay Town perfectly illustrates this with art lovers roaming through galleries and shoppers seeking bargain jewelry.  Mongoose Junction and Wharfside Vilalge are must-see attractions in the area, with restaurants and activities galore. There are countless condos and rental properties to choose from in Cruz Bay, including popular residences like Gallows Point Resort, Grande Bay Resort, The Hills, Lavender Hill Suites, Cruz Views, Upper Deck Villas, and more. Explore Cruz Bay condos for sale or contact a Sea Glass real estate agent for more information.
Chocolate Hole is the premium neighborhood for Luxury Real Estate. In addition to gorgeous waterfront homes, Chocolate hole offers a quick drive to beaches on the North Shore & Maho Bay area. Still, it's only 5-10 minutes outside of Cruz Bay Town, so you needn't give up any conveniences like shopping, restaurants, and beaches to live here in Chocolate Hole.
Coral Bay Quarter
Coral Bay Quarter— known as St John's "other city."  Coral Bay is a quieter alternative to Cruz Bay Town, offering more simplicity and tranquility. Like Cruz Bay, Coral Bay is home to conveniences including mail centers, health centers, and grocery stores – but no gas stations. To get to Cruz Bay, take the scenic route along the north shore and enjoy views of tropical aquamarine waters as you drive.
The Quiet Side of Paradise
For a quieter pace of life, real estate in Maho Bay Quarter on St. John's North Shore is a luxurious upscale area, with a little bit more peace and quiet than Chocolate Hole. Some say Maho Bay is home to St. John's most beautiful beaches, with gentle turquoise waters graced by Sea Turtles and snorkelers enjoying the year round good weather. Within Maho Bay, popular areas for buying real estate or purchasing a home include Peter Bay, one of the island's most luxurious high-end neighborhoods characterized by stucco and native stone buildings.
East End Quarter is St. John's best kept secret, boasting lovely views of the British Virgin Islands across the water. Real estate in East End is for those seeking a true escape from it all.  For those seeking real estate somewhere remote and peaceful, St. John's East End is the perfect place to invest in land or real estate.
Head down to the southernmost part of St. John and you'll discover Reef Bay Quarter.   Most of Reef Bay extends into Virgin Islands national park. On a clear day, Reef Bay offers views of St. Croix. One prominent neighborhood in Reef Bay Quarter is Fish Bay – a famous shark nursery. The Ditleff Point peninsula is one of the rare places on St John where you can watch the both the sunrise at dawn and the sunset over Caribbean waters.
Contact A Sea Glass Properties Agent for more Info on Areas Within Our St. John Map!