St. John USVI Condos for Sale
View St. John condos for sale in the U.S. Virgin Islands. St. John condo owners enjoy gorgeous beaches, fabulous restaurants in Cruz Bay Town, and St. Johns natural beauty. Browse condo listings and communities below.
Listing Saved!
Get alerts on new listings and listing updates that match below search criteria
Add to Collection
Organize and manage your saved listings by addint it to a collection
About St. John Condos for Sale
St. John is a laid back, lusciously green and pristine island in the U.S. Virgin Islands. Nestled in the Caribbean's crystal-clear blue waters lies a haven of relaxation, exploration and natural wonder that's waiting for you on St. John. With the boutiques and restaurants in Cruz Bay and access to Virgin Islands National Park, St. John is a divine destination to own a vacation home, timeshare, or condo. Visitors will join the millions around the world who have dreamed about the island's natural beauty. Learn more about Cruz Bay condo communities.
Popular Areas for Condos in St. John
St. John is comprised of five residential quarters for new homeowners to choose from: Cruz Bay Quarter, Coral Bay Quarter, Maho Bay Quarter, Reef Bay Quarter, and East End Quarter. The vast majority of condos for sale on St. John can be found in the island's most populous quarter, Cruz Bay, on the West End of St. John. As the island's main port connecting St. John to St. Thomas, Cruz Bay is considered the heart of this little island – but it still has a quieter pace of life than many condos on the east end of St. Thomas, where many buyers look for luxury vacation condos.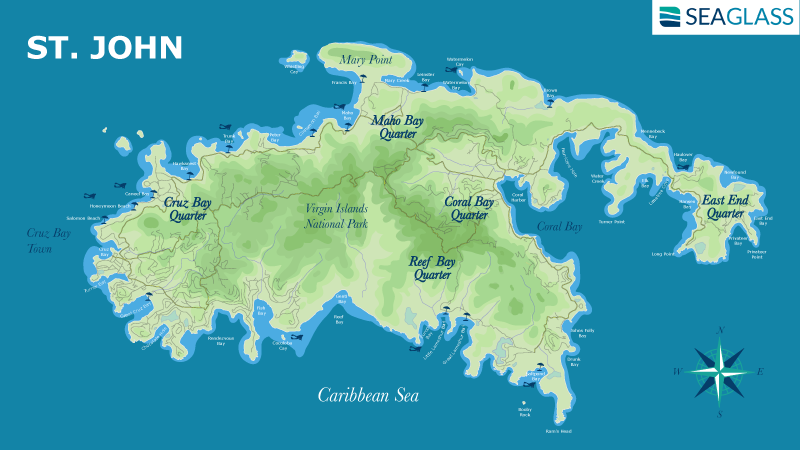 Don't wait – connect with our award-winning real estate agents to find the perfect USVI condos for sale today!