Without a doubt, America's finest and most reliable treadmill is a heart shaped, one mile stretch of gorgeous white sand which lies roughly at latitude 18 on St. Thomas's north side. Magens Bay Beach is a Virgin Island treasure which was listed by National Geographic Magazine as one of the top ten most beautiful beaches in the world.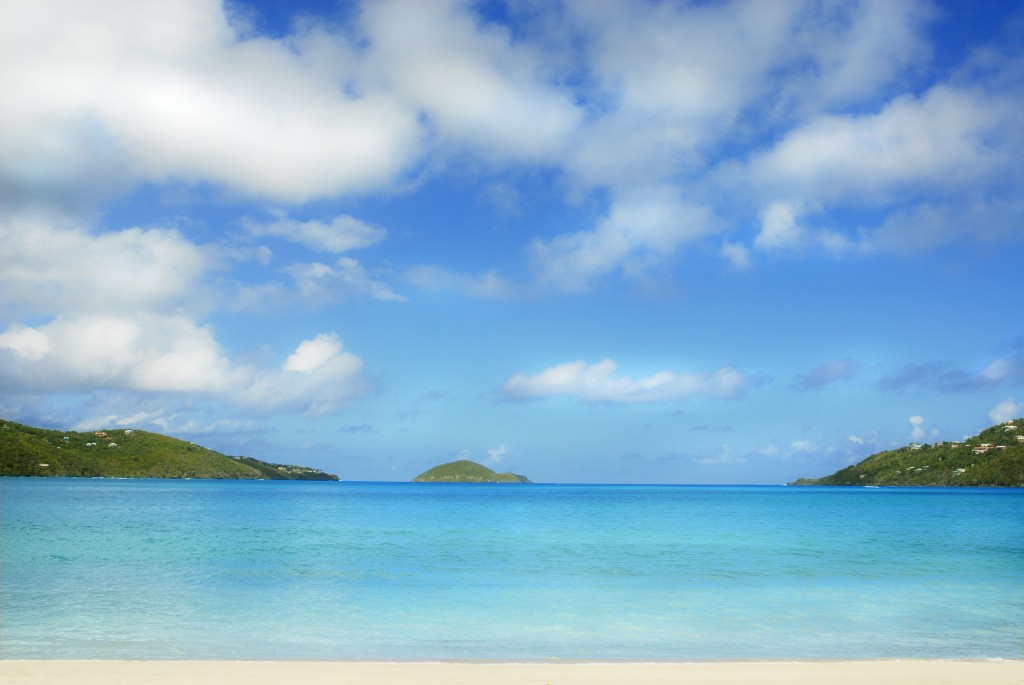 Ocean side it is embraced by the arms of Peterborg Pennisula and Topeca Point. This fortuitous arrangement creates a safe and welcoming harbor for soft, warm tropical breezes. Beach side, an idyllic curve of soft, pristine sand, graced with elegant, blue sky bound, coconut palms and the cool leafy green shade of the generous sea grape trees.
Early risers never have to pay for their workout, and unless there is some big party, (which you'll likely be going to anyway), parking is almost always plentiful. Even if you can't make it before the eight a.m. paying hour, the local price for entrance is just $2 per car plus $2 per person. If you are new on island, don't forget to greet the attendant and everyone else you meet with a "Good Morning". You will be warmly greeted back in kind and may even come to enjoy this island tradition. Tourist usually arrive at the beach sometime between eight and nine a.m. and can make the beach near the bar and concession stand a bit crowded. Everybody needs a little Magens and we don't begrudge tourists their much needed playtime but early walking earns you a more serene workout. (Vampires and night owls can walk for free after five p.m.)
One of the many great things about working out at Magens is never wishing you didn't have to exercise. All the motivation you'll ever need is built right in. Slap on some sunscreen and get out there. Your bare toes will wiggle with delight through the warm, tropical surf as they realize, this truly is the perfect way to get their 10,000 steps a day. By starting in the middle of the beach you can make your steps (approx. five miles) in four full-length passes, finishing your last 1000 steps back to the middle where you started.



iphone or other smart phone users can track their progress with an treadmill app. Many apps will also let you build a music playlist from your own songs and set your walking pace to them. If not, use the time tested method of marking your progress by touching a sandy foot to one of the many rocks on either end of the beach.
Forgot your headphones? Mother Nature generously provides you with the soothing sounds of the waves lapping against the sand – something most people have to buy on a relaxation CD but which Magens walkers enjoy for free. You'll also find lots of friendly, and after a time, familiar faces. Since most people are getting their exercise before work, conversations are usually kept brief.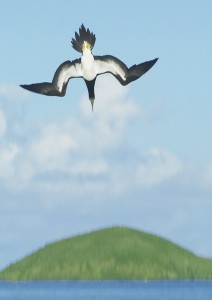 Nature's true athletes are the Pelicans, Brown Boobies and sometimes, Terns who breakfast at Magens daily. Often stunning displays of prowess are executed by these powerful birds. Pelicans seem to wag their tails after gulping down their fish, which seems incredibly cute but is probably to shake off excess water in preparation for the next flight.
If you get bored with walking stop over at Glen Higgins' Yak Shack on the Peterborg side of the concession stand and rent a paddle board at the local rate of about $20.00 an hour. He also rents sea kayaks, surfboards, paddle boats and sundry other sea faring vessels for pretty cheap plus he's a great guy and talented artist. Paddle boarding gives a great core workout and is easy and fun to learn. You can get a lesson from Sharie Seibert who is handily, certified to teach you. If you're lucky you may see baby sea turtles or sting rays. The view from the other side of the swimming area is especially beautiful and makes the extra effort worthwhile. In all cases, when requesting local rates be prepared to show your local ID.
Pack an easy breakfast along with your water bottle. Some simple ideas are berries and cottage cheese, granola and yogurt, a hard boiled egg and a banana, a handful of almonds and walnuts and some fresh sliced mango. After your walk you can enjoy the world class view with your breakfast at any of the dozens of picnic tables.
If you don't have to go to work right away, wear a suit under your shirt and shorts and bring a beach towel. Depending on the time of year and the prevailing winds you may be warm enough to crave a swim, or at least a float in the turquoise waters. If you're lucky enough to work for your self, bring your laptop and a wifi device (Virgin Mobile works here, but the advertised free wifi hotspot doesn't seem to.)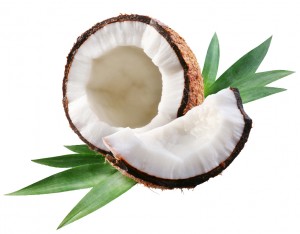 Most of the food in the concession stand is the sort that will undo your workout, but there are some salads and a few other healthy choices. On your way out, make sure you stop and get a fresh coconut water with a straw straight from the coconut ($3 cash, across the road from the ticket booth). Coconut water is incredibly refreshing and the best source for potassium which most Americans get waaaay too little of. Bonus, If you get there early enough you can watch him climb the coconut palms, machete by his side to gather the days young coconuts – now that's amazing athleticism!
For more information about creating your new life in the US Virgin Islands contact:
Julie Eaton-Bryan
340.998.4733
Julie@JulieEaton.com
www.julieeaton.com