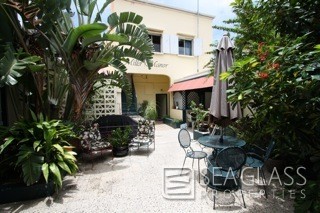 Today I had the pleasure a touring Miller Manor in dowtown St. Thomas, a historic 150 year old manor house with enchanting views of the harbour.  Miller Manor is comprised of 26 airconditioned guest rooms, an owner's penthouse suite, and manager's apartment.  The staircases and pathways connecting the rooms are surrounded by lush tropical vegetation dripping with flowers and local fruits.  There are many areas in which you can curl up with a good book and soak in the cool tradewinds and panoramic views.  The Manor has been in operation since 1850, and serves a variety of guests, some of whom are seeking a quick stop over on their way to charter in Tortola, to others who want to lime for a week or a month on our tropical isle.
If you've ever dreamed of operating a guest house on a tropical island paradise, this is your chance.  Click here for additional details on this property.
For more information on buying, selling and/or leasing property in the USVI, please contact Kerstin McConnell@ 340-998-5737.