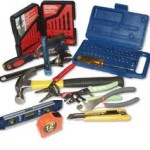 Now that you are a new home owner there is no more landlord to call to fix that leaky faucet or patch the drywall, but before you can fix anything, you had better have some useful, multipurpose tools and supplies on  hand.
The concept behind a simple quick-fix tool kit is to include tools that offer multiple functions. Any one of these may not be exactly the tool you would require for a given task, but they will be able to serve in place of a number of different tools.
Vise-grip pliers
Quick-change screwdriver with interchangeable straight and Phillips-head tips
Measuring tape
Level
Claw hammer
Assortment of screws and nails in a travel box
Needle-nose pliers
Utility knife
One-half-inch-wide cold chisel
Wire cutters with built-in wire-stripper channel
8-inch adjustable wrench
Cordless drill and drill-bit set
Pencil and small notepad
Glue syringe
Safety glasses
Work gloves
You should also keep a few often-used supplies in your tool kit:
16-ounce tub of drywall compound
Package of multigrit sandpaper sheets
Can of 3-in-1 oil
Small tube of fast-acting adhesive such as Super Glue
Small container of white glue
At this point you have made a small investment on your tools, and you need to protect them from damaging elements, especially moisture and salt in our tropical climate. Keep tools in your toolbox rust-free by storing a few pieces of blackboard chalk in each compartment that contains metal tools or other hardware.
For more information about buying, selling and/or leasing real estate in the USVI, please contact Jennie Rosenberg at 340.690.4903, or jennie@seaglassproperties.com.