Running Returns to the Virgin Islands
Calling all runners!  After a pandemic induced hiatus, running events are finally returning to the VI.  Races are wonderful outlets for health and wellness in the local community. They foster movement and exercise in a sport that is accessible for all levels and all ages – all you need are your own two feet and a good pair of shoes.   They are an excellent source of volunteer opportunities for local youth.  And they provide a platform for raising funds and awareness for community charities and organizations.  But they also serve to bring in tourist traffic as runners in the mainland dream of destination races in beautiful places and warmer climates over the fall and winter months.  Ready to get moving? Here's what's coming up in the VI:
St. Thomas – The Army 10 Miler Shadow Run and more!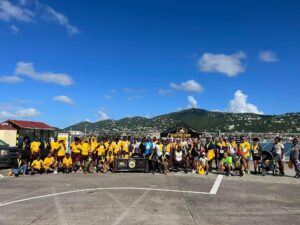 On October 8th, the Saint Thomas Army Career Center Recruiting Team hosted the 3rd annual Army 10 Miler. The event was offered free of charge as a Shadow Run for the flagship Army 10 Miler race which is held annually in Washington, D.C.  Participants received t-shirts, finisher medals and awards for the top 3 finishers.  The 10-mile course took runners from the Havensight cruise dock to the Cyril E. King airport and back.  The event drew about 65 participants as it continues to grow each year.  Other 2022 Shadow Runs are being held at Army bases around the globe including Iraq, Romania, Honduras, Cuba, Djibouti, Italy and Turkey.
Sunday, October 23rd – 1st Annual St. Thomas Waterfront 5k benefitting the family of Nicole Slusher.
Saturday, October 29th – Rock Life Crossfit's Pink Run benefitting Cancer Support VI.
 St. Croix – The St. Croix Scenic 50
On January 15th, 2023, runners can take part in the St. Croix Scenic 50 which showcases the gorgeous island scenery of the largest island in the USVI.  This year's race will offer a 50k individual and 50k relay option.  And if you're wondering, 50 kilometers = 31.07 miles.  The course begins and ends at the beautiful Cane Bay beach. Runners will enjoy the breathtaking views of sunrise along the water of the north shore before heading into the trails and rolling hills leading up and over to the west-end shoreline. Offering a mix of road and trails, flats and hills, mountains and beach, this event has something for everyone.  What a great way to spend a 3-day holiday weekend in January!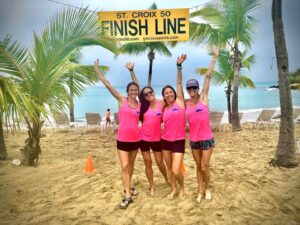 St. John – 8 Tuff Miles
The most well-known VI race to both locals and visitors alike is 8 Tuff Miles. The first 8 Tuff Miles footrace was held on Saturday, February 22, 1997 with 21 finishers. The largest participant pool was set in 2013 with 1,207 finishers. The stunning yet strenuous course runs from Cruz Bay to Coral Bay via Centerline Road for a total distance of 8.375 miles. Beginning and ending at sea level, runners will reach a peak elevation of 999 feet along the way. The views are arguably worth the elevation gain! The next race will be offered as a free community event on February 25th, 2023. The roads will be closed to traffic, but runners will need to run self-sustained with their own water. If you're lucky you might even get to see the resident donkeys, pigs, and goats as you go. Start planning your trip today!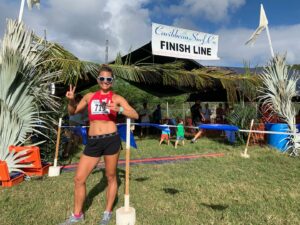 Looking to link up with other runners on island or seeking support to start running? The St. Thomas Run Club is a free group that meets weekly and is open to all levels. Just show up!
By: Katie Gott Office Manager, Sea Glass Properties Coach & Founder, St. Thomas Run Club