It was the kind of adventure that happens on Hollywood sets or in pina colada-inspired dreams.  But if you live in the Virgin Islands, as I do, it simply meant clearing my calendar on Tuesday and finding my bathing suit!  I had just heard about "Surfer Gary"  whose "office" is in Fish Bay on St. John, where he teaches whoever asks, how to surf – all day long.  Just slip him a $20.  What the heck! I piled my 55-year-old self and four teenage girls into my SUV, wedged it onto the St. John car ferry, embarking from St. Thomas, and set off.  Twenty minutes later we were on our sister island, weaving our way past the elegant Westin Hotel to some remote, but surprisingly well-paved roads on the south side of the island.  We hunted down the promised 90-degree turn in the road, found the requisite red rocks on the right, and looked to the left, where sure enough, there was a path to the pounding waves of Fish Bay below.  Suddenly, up pulled a tiny SUV wanna-be from the Bob Dylan era whose condition was grungier than Dylan's voice is raspy.  Atop the boxy ride were three surf boards which could only mean, Surfer Gary had arrived.  He jumped from the driver's seat, straw hat intact, and greeted us with a sergeant's set of instructions – grab the boards like this, don't bump them on the rocks, and walk slowly down the path. (You don't have to tell me to go slowly these days.)  At the bottom, he had us climb belly down onto one of his boards and practice the only thing he said we really needed to know – how to get up on the surf board. It was simple enough – a one-two-three drill.  One:  hands go under your shoulders.  Two: left leg gets yanked, akimbo, up to your hip.  Three: right leg swings around and the foot gets planted on the center line of the surf board and a squat turns into a stand. Viola!  You're surfing!  Rather, you're standing on a surfboard on the sand.  Oh, yeah.  Now, down to the water.
One at a time, he had us lay on the board as he guided us away from shore through the white foam waves that sliced forcefully across the board.
"Pull your suit up," Gary said.  Hadn't a clue what he was talking about, so I ignored him.  He repeated himself, and I ignored him again.
"OK, Barbara.  Swing your legs over either side of the board and sit up."  This time, I listened.
"Now," he said.  "Pull your suit up."
I looked down and indeed, down was the operative word. I pulled up my suit.
"That," Gary joked, non-plussed, "is one reason why I do this."  It turned out, every one of us had the same experience. We had no idea the waves were forcing down our tops, which we thought were secured by virtue of laying on our stomachs.  Wrong.
Back to the lessons, Gary turned and pointed the board to the shore, waited for the appropriate swell, or swell-ette in our case, then gave the board a gentle push and issued the command at just the right moment – "Stand up!"
The drill began.  This time, with water, not sand as our platform.  One: hand under shoulders.  Two: left leg jacked up to hip. Three: swing that right leg into place and make that squat turn into a stand.  Yes, YES!  Whoops….splash.
The board bounced and bobbed, I surfaced quickly, and Gary slow-motioned his way through the water to reach me, and we started again.
This time, my one-two-three drill worked. I turned that squat into a stand, and I surfed.  Yup.  I surfed.  Second try. I stayed balanced and rode that wave to shore.  Granted, the shore came quickly and the wave was polite, but, doggone it.  I SURFED!!! Did you hear that Brian Wilson?!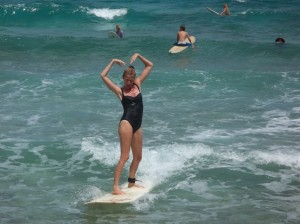 It was an ever-loving victory moment. And, each one of the girls had the same experience.  We all ended the day surfing.  Surfing quite well in some cases.  Gary got $100 – it's the way he earns his living.  And we got so much joy and pride out of doing something none of us expected we'd be able to do in one try,  And then there's the traction you get out of boasting to anyone who will listen that, hey…I surfed!!!
So…come on down to the islands, or if you're already here, give Surfer Gary a call and head out to Fish Bay on St. John.  Gary doesn't text. No email.  But he does answer his cell phone – same era as his car, by the way.  And he's oh so much fun to learn from.  340-626-6377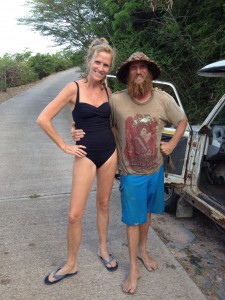 By the way! If you are interested in purchasing a home in the US Virgin Islands, I would love to help! My team and I can also show you homes in Puerto Rico or the British Virgin Islands. Give me a call today! 340-690-9995