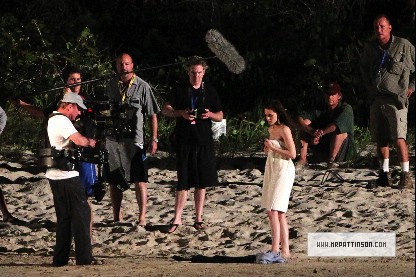 Rumors of a vampire invasion on our local beaches spread through the coconut telegraph like wild fire over Easter weekend.  Reportedly, filming for the next installment of the Twilight series "Breaking Dawn" was conducted late Friday and into the early hours of Saturday at Magens Bay, and then on the deserted isle of Hans Lolick on Monday.
I can confirm the presence of a mysterious barge anchored in Magens Bay over the weekend as seen from my veranda, and on my way to an Easter egg hunt held at Magens mid-Saturday I saw a mass exodus of the Grip Flicks trucks leaving the beach.
Purportedly, they were reshooting scenes from the "honeymoon" portion of the movie previously shot in Brazil.