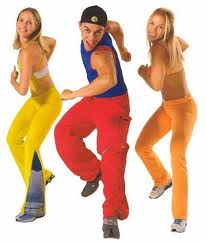 I've got to be honest with you, when it comes to exercise I pretty much stick to long walks on the beach or a quiet meditative yoga session at the west end of Magens Bay Beach.  But, after much cajoling from multiple friends I tried Zumba today out at UVI's new fitness center. 
Admittedly, I was feeling a bit anxious, generally my left foot doesn't know what my right foot is doing, so the thought of high speed aerobics to loud salsa music had my stomach in knots!  After 15 minutes I was hooked.  The instructor, Joni, was top notch and her instruction ques were spot on.  She would even take the time before the next sequence to walk us through a new or more complex step.  It was high energy fun that was truly contagious!
If you want to go get your groove on and a shake your booty towards better health, go check out a Zumba class today.  Classes can be found at the UVI Fitness Center, the Jackson Complex at Antilles School, and a free class on Saturday mornings from 10-11 a.m. right here at Yacth Haven Grande on the lawn by Fat Turtle.
For more information at island happenings, buying, selling or leasing property here in the US Virgin Islands, please contact Jennie at 340.690.4903 or jennie@seaglassproperties.com.