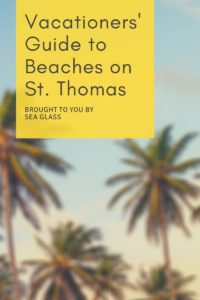 Vacationers' Guide to Beaches on St. Thomas
Looking to soak up some sun, but not sure where to start? Whether you are on vacation, have just moved to the island, or are a long-time resident, you may not be aware of ALL of the beaches that are on the island.
Here is a shortlist of some of our favorite beaches on St. Thomas, and what each one has to offer:
Magen's Bay: One of the World's Great Beauties
Known as one of the WORLD'S most beautiful beaches, Magen's Bay is our claim to fame on St. Thomas. However, this beach sure does live up to its reputation of beauty. Located on the North Side of the island, Magen's offers pristine blue waters, plenty of picnic tables and space for your group, and a restaurant/bar where you can find your typical beach-day foods and drinks. Magen's is a must-see and it is particularly attractive if you are looking to a cookout on the beach.
Sapphire Beach: Secluded with Stunning Views
Sapphire Beach, located on the East End of the island is one of my personal favorites. This expansive beach with stunning views is a good place to go if you have both a large group of people, or you prefer a little more privacy. If you walk North past the Crystal Cove development you will come to, almost always, your own private beach. Another area to explore at Sapphire is "the point" that is located closer to the marina. Feel free to bring a beach chair, sit back, enjoy a book, and watch the waves crash against the rocks!
Secret Harbor: Snorkeling Haven
This beach has arguably some of the best snorkeling on the island. Surrounded by plenty of coral you will see a plethora of fish and marine life. Also on the beach is the Sunset Grill where you can enjoy the gorgeous view of the harbor and indulge in some sumptuous food (my favorite is the Ahi Tuna nachos)!
Lindquist Beach: Undeveloped, Private Paradise
Lindquist Beach is another private, and secluded beach located on the East End of St. Thomas. Entry to this beach is only a few bucks, and it is definitely worth your while! Come to this undeveloped beach if you want to get away from it all.
Coki Beach: Snorkeling, Scuba, & Sea Life
Coki is another great spot for water activities such as snorkeling and scuba. This beach has a very local vibe to it, and there is always reggae music playing for your listening pleasure. Plenty of food trucks and restaurants are on this beach, and the servers will come to take your food and drink orders so you do not have to move an inch. After the beach, stop by Coral World to swim with dolphins and learn about sea life. Admission is $19/adult and $10/child.
Want more? Listed below is a comprehensive list of our beaches on St. Thomas!
Northside: Dorothea Bay, Hull Bay, Little Magens, Mandahl Bay, Magen's Bay
Southside: Bolongo Bay, Limetree Beach, Morningstar, Lindberg Bay
East End: Water Bay, Sugar Bay, Vessup Bay, Bluebeards Beach, Turtle Cove, Cowpet Bay, Coki Beach, Sapphire Beach, Lindquist Beach, Secret Harbor
West End: Brewer's Bay, Botany Bay
For more Virgin Islands vacation ideas, check out our guide to island hopping. Happy beach days!