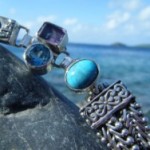 The design team of Jennifer Cutshaw and Osa Notting has created a stunning line of hand-crafted silver jewelry called V.I.be, Virgin Islands Blue Expressions.  Their logo is worked into every piece and also features the well known petroglyph found on an ancient rock carving on St. John's own Reef Bay Trail.
Each piece is individually handmade by their skilled silver smiths and often adorned with beautiful gemstones such as the Caribbean Larimar, Topaz, and Peridot.  Jennifer and Osa are also currently working on a new collection featuring accents of gold and diamonds, as well as other precious Brazilian gemstones.  You may view the entire collection at www.vibecollection.com.
This stunning collection of island inspired jewelry can be exclusively found at V.I.be and Into The Blue, both of which are located in Wharfside Village, St. John, just steps from the ferry dock.