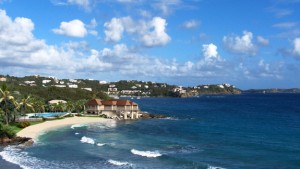 Last week Team Sea Glass had the opportunity to visit the historic Dolphin House located within the confines of the Dolphin Cove development land.  This home was used by scientists who trained dolphins to search for underwater mines during the cold war.  The structure and saltwater pool used to interact with the dolphins remain intact.  There are plans to remodel the structure to serve as the community clubhouse, which will sport a glass floor so that the saltwater dolphin pool can be viewed.
The proposed Dolphin Cove development is planned to have 4 oceanfront bungalows and approximately 86 villas and luxury flats. The community will feature two beaches with excellent swimming and snorkeling. The common area will also include tennis courts, fresh and salt water swimming pools, a myriad of hiking trails, restaurant and fitness center. Water sport amenities will be available at the beaches.  Dolphin Cove will be a self-sufficient community, offering its own security, water treatment plant and standby generator.
Two acres of the 19.5 acre property have been dedicated as a wildlife habitat for the endangered Virgin Islands tree boa. The Virgin Islands Tree Boa is a light brown snake with chestnut blotches. Young tree boas are light grey with black blotches and their color changes as they mature. Like most boas, the Virgin Islands tree boa is nocturnal and spends the day under rocks and logs. This snake, native to St. Thomas, is currently endangered and received federal protection in 1979.  The VI Tree boa has also been found on Virgin Gorda, Tortola, and other low profile cays of Puerto Rico. They live in dry habitats such as scrub-woodlands or subtropical dry forests. The tree boa is smaller than most boas, lives up to 25 years and grows up to 4 feet.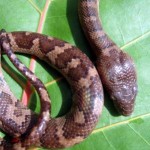 Team Sea Glass was lucky enough to spot one of these elusive snakes on our trek to view on of Dolphin Coves spectacular beaches!
Click here for more information about this premier development opportunity.
For more information on buying, selling and/or leasing property in the USVI, please contact one of our sales agents today!