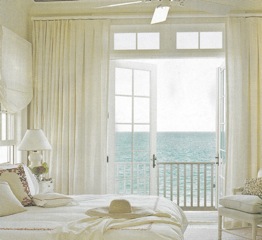 I remember the first time I got off a plane in St. Thomas. The beautiful colors and warm humid breezes the Wow and the AHH of that has never left me! After nearly a decade of residency on St. Thomas I still love waking up to big beautiful ocean views and warm breezes. Whether you are redecorating your current home, personalizing a new home, or freshening up in preparation for selling your home; consider putting the focus on the outdoor elements. A great way to let the lush outdoors take center stage is to keep the interior of your home very neutral. It can be a challenge to commit to a narrow palette of neutrals but don't forget that it will allow the beautiful views to take center stage as a large painting would in your home. Decorating entirely with neutral colors can create a space that is soothing, sophisticated, and warm. Tips to help your neutral palette shine:
 1. Mix different shades and tones of neutrals to add depth.
2. Use lots of different textures and materials. Mix wood, plush ultra suede, slubby linen, accent basket.
3. Accent with small pops of favorite colors. It's fun and easy to change these every season!
4. Choose fabrics that are easy to clean.
5. Don't forget to add pattern. When you have a narrow color palette choosing a bold geometric pattern for the rug or draperies can bring life to the room.
Submitted by Tiffany Cassidy owner of Lagnappe, 6501 Red Hook Plaza, Suite 201, St. Thomas, VI 00802, 340.774.4304 (Voice), 340.643.7289 (Cell), 954.282.1926 (Fax).  For more details about Lagnappe, please visit www.lagnappe.com.