Dolphin Cove Real Estate Overview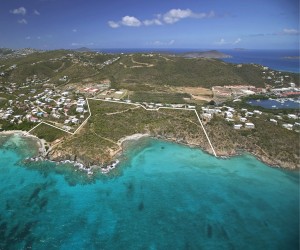 Dolphin Cove USVI is currently one of the largest contiguous parcels of St. Thomas waterfront land for sale on island. Located just west of the Secret Harbor Beach Resort, this 19.6 acre development opportunity is a must see.
While you may be able to find other land opportunities in the US Virgin Islands, it is highly unlikely you will find one as prestigious as this one.
DC Caribbean Investment Opportunity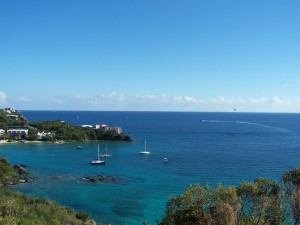 View from this undeveloped St. Thomas VI land looks to the South.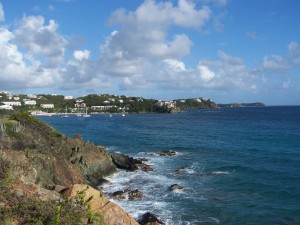 USVI Waterfront view towards Secret Harbor Beach
The History Behind this Caribbean Development Opportunity
The historic Dolphin House is located within the confines of the Dolphin Cove development land.  The Communication Research Institute was a state of the art research facility, used conduct a dolphin-intelligence study to figure out if Dolphins could talk to humans. In 1965 a research assistant spent 10 weeks living with a dolphin in a partially flooded two room house. It has also been said that the US Virgin Islands Dolphin House was used in the Cold War to train dolphins to find under water mines.
The main structure and saltwater pool used to interact with the dolphins remain intact.
There are plans to remodel the structure to serve as the community clubhouse, which will sport a glass floor so that the saltwater dolphin pool can be viewed.
Dolphin Cove Development Plans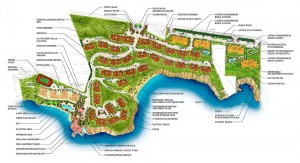 The above picture represents the Original Site Plan for DC US Virgin Islands Development Plan. (The permits have expired, however since the original plans have been previously approved, a new owner would just need to show that they have the ability to fund the project).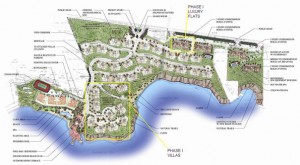 The above picture represents Phase One of DC. This property is the perfect opportunity for someone looking for a Caribbean real estate investment opportunity.
Here is a quick overview on the original DC development plans:
Dolphin Cove was originally "planned to have 4 oceanfront bungalows and approximately 64 villas and 36 luxury flats. The Bungalows are the ultimate in island luxury. The Villas at Dolphin Cove will offer several exceptional floorplans with expansive decks to take advantage of the stunning views. The Luxury Flats at Dolphin Cove will feature townhome and single level plans with spacious living areas, private decks and gourmet kitchens.
The community will feature two beaches with excellent swimming and snorkeling. The common area will also include tennis courts, fresh and salt water swimming pools, a myriad of hiking trails, restaurant and fitness center. Water sport amenities will be available at the beaches.
Dolphin Cove will be a self-sufficient community, offering its own security, water treatment plant and standby generator. Full rental management services will also be available for any homeowners who wish to rent or lease their properties.
Dolphin Cove is your dream made reality as an investment property or a seasonal or permanent residence for your family. Come join us and really get away."
Buying Dolphin Cove Land – St. Thomas Virgin Islands
Today we present you with an opportunity to purchase a one-of-a-kind opportunity. Dolphin Cove: 2 beaches, the historic "Dolphin House," a caretaker house , and previously had Coastal Zone approval for 86 Units. Price has been substantially reduced from $9.5 million to $4,500,000. Zoned R-2 and W-1 (Resort)
Call Michael Lampe today for more information on Dolphin Cove! 340-244-7565