by Barbara Birt
One of the most enjoyable things for me about living in Cowpet Bay West Condominiums is proximity to the St. Thomas Yacht Club. I walk down the hill from my condo, to a stairway by the ocean and I land almost on the beach. Turn left, and I'm sauntering onto the Yacht Club pier; turn right and I'm on the Club's seaside restaurant deck or in the bar, where yes – everybody knows your name.
Lunch is served daily except Monday and dinner is served Tuesdays and Fridays.  Friday is a family free-for-all.  Bring the children and let them romp on the beach or the nearby lawn while you have adult time.  Parents share in the periodic check up on the kid clutch, making for a pleasant family scene.  But, it's more than that.  Plenty of long-timers, and some old-timers are shoulder to shoulder in the bar enjoying a lively social life with friends who often feel like family, as you greet them at week's end, curious to hear the latest, or get a smile, a hug.  And while the term "Yacht Club" conjures images of prepped out men with colorful pants speckled with embroidered whales, you can don some torn jeans and be perfectly at home at the St. Thomas Yacht Club.  Less is more when it comes to life on St. Thomas.  Pretentiousness will get you a seat by yourself.
While the atmosphere is casual the sailing scene is world class.  The STYC hosts the annual International Rolex Regatta attracting all classes of boats from around the world for a week-long celebration and breath-taking races.  Summertime features the Scotiabank Optimist Regatta, for small fry, but with big activities including days' worth of sailing instruction leading into the racing for local kids eager to be future Rolex racers.
Tennis has become a huge component of member-life at the Club, with free lessons to skilled and not-so-skilled players every Saturday morning. Planned court time for different skill levels each week enables players to just show up and get in a game.  The Chrysler Cup competition has become an annual and well-attended, well-represented tennis spectacular each year, giving those lacking sea legs a different sporting activity to enjoy at the Club.
Membership is inexpensive.  Finding sponsors is easy.  And friendship is almost guaranteed.  Come on down and enjoy lunch, a dinner, get to know some folks, and ask our Manager, Bill Canfield, for an application!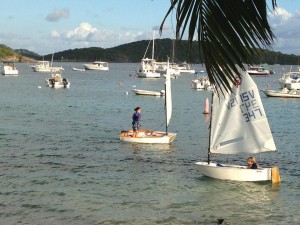 Above picture: St. Thomas Yacht Club after school sailing program.
Sea Glass Properties: www.seaglassproperties.com