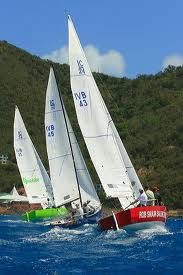 Looking for something fun to do this summer on Friday night?  Well, here's a great option, a beer can sailing series at the St. Thomas Yacht Club!
In the hopes of getting more participation in racing, they have created a new format for the Friday IC24 series starting this Friday the 3rd. – July 29 th. They will have a points series where every boat that races gets one(1) point. The boat does not have to be skippered by the same person, the boat gets the point. First place gets (3) points, second place gets (2) points, everyone else gets one . Every Friday first place wins a bottle of Mount Gay Rum ( our sponsor ). The overall winner of the series will win FREE ENTRY for their boat in the 2012 ROLEX REGATTA.
Friday night race of June 24 will not count towards overall winner points due to the BVI Quantum race will be that weekend, but the race will still be held with Mount Gay given to the winner.
For more information on how to get on the water this summer, contact Bill Canfield, Manager, STYC, 340 626 0239.