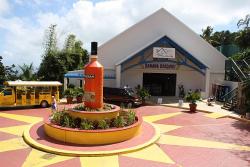 Mountain boasts one of the best views in the Caribbean, and one famous banana daiquiri, has finally reopened, nearly two years after the property was completely destroyed by fire.
While the official grand opening will take place in mid-March, Moutain Top opened its doors to the public two weeks ago.
Originally opened in 1963, Mountain Top is a 17,000-square-foot facility, with 45-foot vaulted ceilings, an 85-foot bar, sweeping deck and views of over twenty-one islands and cays.  So stop by, cool off with an umbrella drink and take in the vista!
For more information about the USVI and available properties, contact Jennie Rosenberg at jennie@seaglassproperties.com, or 340.690.4903.