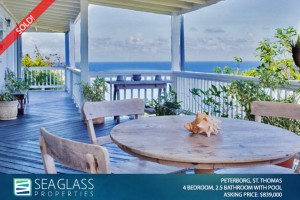 It's been a long time coming, but the St. Thomas, Virgin Islands housing market is starting to show signs of a recovery.
According to a year-over-year comparison from the St. Thomas/St. Croix MLS, the average median price rose from $512,712 to $544,525, a 6% increase overall.
While the average sales price has only risen slightly, the overall sales volume for St. Thomas houses sold has seen a 48% increase from $20,508,500 in 2011 to $30,493,400.
Out of 22 homes sold on St. Thomas in 2012 and listed between $400,000 and $795,000, Sea Glass Properties has been involved in 12 of the transactions.
"For the past few years, the majority of our sales were from on island professionals, but now we are starting to seeing investors and second home buyers active again." says Kerstin McConnell.
For more information on the St. Thomas housing market please contact Kerstin McConnell at 340-998-5737.