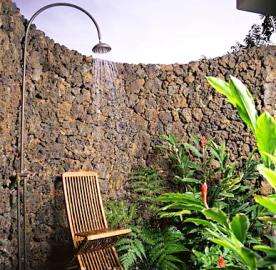 When planning the design for your new outdoor shower, it's important to make it blend with the esthetic of your current home.  The idea is to have the stand alone shower blend into its surroundings. When selecting a style, take a lead from your home's architectural details, then incorporate the structure into the landscape with fragrant and colorful plantings.
Look to found or salvaged items when designing your shower. A running rail salvaged from the bow of a boat finds a new use as this shower's curved curtain rod. Or perhaps a conch shell is reincarnated as the shower head.
Don't scrimp on the creature comforts just because the shower is outside.  Provide comfy robes and sea-scented products to pamper guests with a spa like experience. Fill perforated storage containers with loofahs, back brushes and sea sponges. Keep some aloe vera gel on hand, too, for post-shower soothing.
When designing your outdoor shower retreat, make sure you incorporate practical design elements, along with the luxurious ones. Control water runoff. Cover the floor with rocks, bricks or stones. If the shower is elevated, make sure water drains through floorboards onto sandy or quick-draining soil. Use eco-friendly soaps and shampoos for a luxurious scrub that won't harm vegetation and wildlife or clog drains.
Before you start construction, do your homework first and check local codes for building and drainage restrictions.  Also, an outdoor shower may tax your hot water system, so consider updating the system during the installation.  It's also wise to research types of building materials that can stand up to the elements, such as treated wood, rust reistant fixtures and outdoor fabrics that are resistant to mold and mildew, pressure treated wood, and synthetic decking.
Have fun with this project and enjoy the great outdoors this summer.  For additional design inspiration, check out Etan Fierro's book, "The Outdoor Shower, Creative Design Ideas for Backyard Living from the Funtional to the Fantastic".